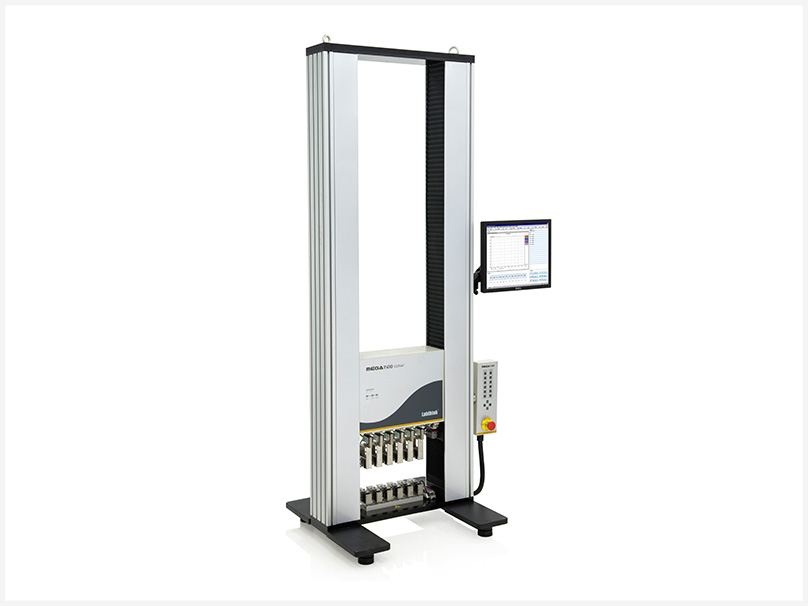 Introduction
MEGA 1500 Tensile Testing Machine performs tensile and elongation as well as shear, peel, tear, and bend test. MEGA is engineered for precision, built for durability, and offer the flexibility for changing requirements. Dual Column Tabletop System lends itself to a wide range of testing environments and requirements. Featured update of MEGA 1500 is 1kN max load upgraded.
Properties
Including but not limited to Tensile Strength, Elongation, Peel Strength, Tear Strength, Seal Strength
Applications
Including but not limited to Packaging, Adhesives, Rubber, Leather, Paper, Textiles, Metal sheet and etc.
Standards
ISO 37, ASTM E4, ASTM D882, ASTM D1938, ASTM D3330, ASTM F88, ASTM F904 and more.
Specifications
Load Cell Capacity: 500N (Standard) 50N, 100N, 250N, 1000N (Optional)
Accuracy: 1% FS
Test Speed: 1 - 500 mm/min
Stroke: 1200 mm
Instrument Dimension: 850 mm (L) × 700 mm (W) × 2030 mm (H)
Net weight: 168 kg
Features
Customized for low-force up to 50N, and heave-duty up to 1kN
6 working stations
Dual Column tabletop system
Extra height and width options available
Customizable Control Panel
Thousands of optional grips and fixtures
Compatible with LystemTM System
Embedded computer controlled system
Without requiring PC
Over-travel protection
Overload protection